NICK DISANTO
NICK DISANTO
​Nick DiSanto is a musician and sculptor from Lancaster, Pennsylvania. Traveling the world with his guitar and a multifunctional contrivance known as the DiSantomophone, Nick performs his one-man show wherever audiences might gather. He has brought his one-man parade to countless fairgrounds, retirement communities, street corners, Vaudeville theaters, wedding halls, and pubs throughout the United States, Canada, and Japan.
Nick's enthusiasm for designing, building, and playing his musical contraptions is boundless, as is his love for the ageless American music that comprises his repertoire.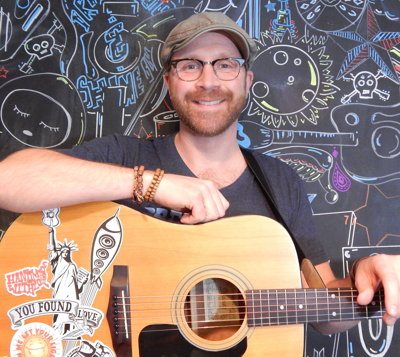 MARK DEROSE
MARK DEROSE
Mark works as a solo artist in the children's entertainment market with  main goal of offering a show with a very positive and "feel good" experience.
Mark's very happy to say, for the last 2 summers he's been working very regularly within the Pennsylvania Library Summer Reading System. (Summer '17 – 24 shows total, Summer '18 – 34 shows total)
His show combines his love for the visual arts with his love for songwriting. Mark's songs, art work, videos and the show's activities all compliment one another in an effort to communicate his message that encourages his young listeners to embrace and enjoy life to it's fullest, be creative individuals, and most importantly, confidently be themselves.